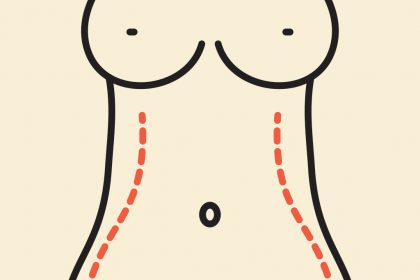 This method is suitable for small fat deposits in the abdomen and on the waist, but without excess skin, and for re-tightening of the abdominal wall after childbirth. The ideal candidate profile is: young, first pregnancy, almost no overweight, regular physical exercise.

Frequently asked questions about endoscopic abdominoplasty:
What is endoscopic abdominoplasty?
A surgical intervention through a small incision in the skin. A tiny camera is inserted through the incision which is used to guide the surgical instruments. Endoscopic tightening does not involve the removal of skin.
Who is a good candidate for this method?
The ideal candidate is young, not or only marginally overweight, engaged in sports on a regular basis, and has given birth for the first time.
How is the intervention performed?
The first step is liposuction (link) which may be combined with high-definition liposhaping (link). Surgery is performed through a small incision (2 cm), preferable in old scar tissue (e.g. Caesarean section) to leave no new traces. A tiny camera is inserted through the incision which is used to guide the surgical instruments. Endoscopic tightening does not involve the removal of skin.
What to do and what not to do before treatment?
Three weeks before an invasive / surgical treatment patient must stop smoking and taking aspirin. In the last week, patients must stop taking any anticoagulant ("blood-thinning") medicine.
The following substances are also prohibited:
•    pain killers such as Apranax, Voltaren and Vermidon (alternative brand names are Minoset and Novalgin)
•    multivitamin tablets containing ginseng, ginkgo biloba and coenzyme Q,
•    green tea, herbal products containing linseed, sour cherry stalks, tomato seeds
•    all diet products.
Three days before surgery you should avoid eating anything that can cause constipation. The preferable diet is vegetables and food stuffs that are easily digested.
Do I have to lose weight before the intervention?
Endoscopic abdominal tightening is not suitable for heavily overweight persons.
Does the procedure require anaesthesia?
The operation is performed in a hospital under general anaesthesia.
How long does the procedure take?
That depends on the individual scope of intervention. If no comprehensive liposuction is performed, the procedure takes 1-2 hours.
Is the procedure painful?
The procedure is not very painful. All intervention points are locally anaesthetised for about 10 hours. Patients feel no pain for a couple of hours immediately after the intervention.
What happens after the operation?
Surgical drains are placed to remove fluids and a corset is placed around the abdomen. Three to four hours after the procedure you can eat and get up. Patients are usually discharged the same day. The drains may stay in place for a little longer, if necessary. At night you can sleep on the side. You can take a shower 24 hours after drain removal. The sutures are placed under the skin and need not be removed. After 2-3 days you can return to your regular activities. After 3 weeks physical activities are permitted; however, exercises involving movements of the abdomen should be avoided. After 6 six weeks, you are free to exercise as you please.
What complications can occur after surgery?
No severe complications are expected. In case of extensive liposuction, serum may accumulate under the skin which has to be removed with a cannula.
Are the results of mini-abdominal tightening permanent?
The intervention addresses the root cause of the problem and is permanent. After childbirth or if you gain weight again, a certain amount of loosening is unavoidable. A return to the pre-operation status is, however, impossible.
How can I maintain my new body shape?
Patient must maintain their weight; this means in particular a healthy diet and moderate alcohol consumption to prevent abdominal fat formation. Regular skincare to prevent skin cracks and regular physical activities to strengthen the abdominal muscles are also strongly advised.
Is pregnancy possible after abdominoplasty?
Yes. However, childbirth puts new strain on the skin and abdominal muscles. Patients are, therefore, advised to coordinate pregnancy and abdominoplasty.